December 13, 2018
Minister for Social Protection and Employment Affairs, Regina Doherty today launched the Annual Report 2017 and Strategic Plan 2018-2021 of the National Advocacy Service for People with Disabilities (NAS). NAS is funded and supported by the Citizens Information Board, and provides a free, independent and confidential advocacy support service to people with disabilities across Ireland.
Minister Doherty outlined the importance of advocacy for people with disabilities and acknowledged that successive governments had not done enough in this area in the past. "It is important that we hear the true stories of those who feel voiceless in our society. We need to shine a light on their frustrations and give a commitment to improve the supports available." She commended the collaborative work of the Citizens Information Board and NAS who were ideally placed to deliver on the Strategic Plan whose priorities centre around improving the service, establishing Advocacy Standards (currently, it is unregulated) and influencing public policy.
Angela Black, Chief Executive, CIB explained how the service grew from a pilot project 7 years ago into the National company that exists today. "It is timely that we are gathered today to launch this strategic plan in the year that saw the UN Convention on the Rights of Persons with Disabilities brought into Irish Law". She referred to other advances for the advocacy sector such as Decision Support Service developments and the Department of Health initiative to establish a patient advocacy service. She also stressed the need for NAS to receive statutory powers to do its work effectively. She added: "Advocacy is not always a welcome visitor to the services and organisations that NAS clients reside in and engage with."
Louise Loughlin, National Manager, outlined the work of NAS in more detail and the important strategic priorities of raising awareness and building capacity and enhancing effectiveness. Two key speakers at the launch included a former client, PJ Harrington who described how working with a NAS advocate completely changed his life and disability rights activist, Joanne O'Riordan who talked about the theme of empowerment. She explained the importance of equality and the challenges both she and her parents faced to get the supports necessary for her to fully participate in pre-school, school and college. She has now graduated with a degree in Criminology but stressed that many people with disabilities are forced down the route of self-employment as other employment options are so limited. In a light hearted presentation that highlighted the challenges she has faced she said: "It's amazing how inaccessible "accessibility" is, at times." On the theme of "limits" she said that her brother had recently finished a documentary about her journey to date called "No Limbs, No Limits". She added that everyone can be an advocate if they are passionate enough.
NAS's team of 35 full-time advocates around the country provided full, representative advocacy support to 852 people with disabilities in 2017. In addition, NAS provided information support, arms-length and one-off advocacy in 2,776 cases in 2017.
Significantly, and reflecting national pressures on housing and homelessness, housing and accommodation were the primary issue in 48% of representative advocacy cases that NAS advocates worked on. These issues related to people with disabilities at risk of homelessness, those in rents arrears, those living in appropriate accommodation and those living in inappropriate residential placements. The very slow place of progress on de-congregation from residential settings was a continuing trend. Another emerging trend in the accommodation area was the use of nursing homes to house younger people with disabilities, including people in their 30's and 40's.
The issue of a lack of personal assistance hours for people with disabilities emerged as a key factor across many of the issues that NAS advocates worked on.
The second most common issue in 2017 related to healthcare issues and decisions, while assisting parents with disabilities through childcare court proceedings continues to be a significant and challenging element of NAS's work at 13% of cases.
Significantly, the majority of the 852 representative advocacy cases NAS worked on (509 cases), had more than one issue.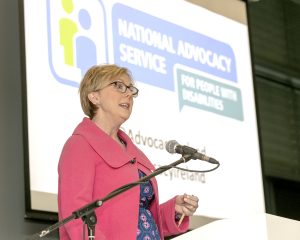 Minister Regina Doherty launches the NAS Annual Report 2017 and Strategic Plan 2018-2021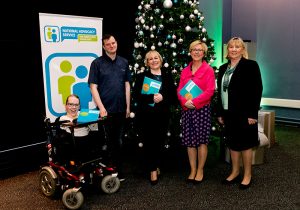 Pictured at the launch were from left: Joanne O'Riordan, Journalist and Disability Rights Activist, PJ Harrington, former NAS client, Louise Loughlin, NAS National Manager, Minister Regina Doherty and Angela Black, Chief Executive, CIB.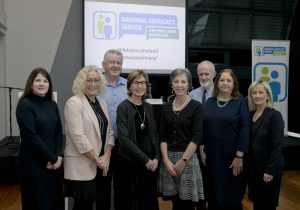 Pictured are NAS Directors from left: Elaine O'Mahoney, Helen McDaid, Diarmaid Ó Corrbuí, Nuala Doherty (Chairperson) Brege McCarrick, Noel Beecher, Liz Chaloner, Michelle Tait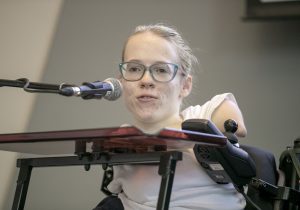 Disability rights campaigner talks about empowerment at the NAS launch event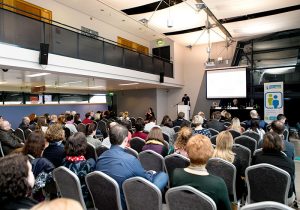 Attendees at the launch event
This news item originally appeared on the Citizens Information Board website, with credit and thanks to CIB for this content.