The NAS Board is made up of a group of people with experience working in disability and public policy.
The NAS Board makes decisions about how NAS does its work.
The NAS Board makes sure that we are providing a high standard service for people with disabilities.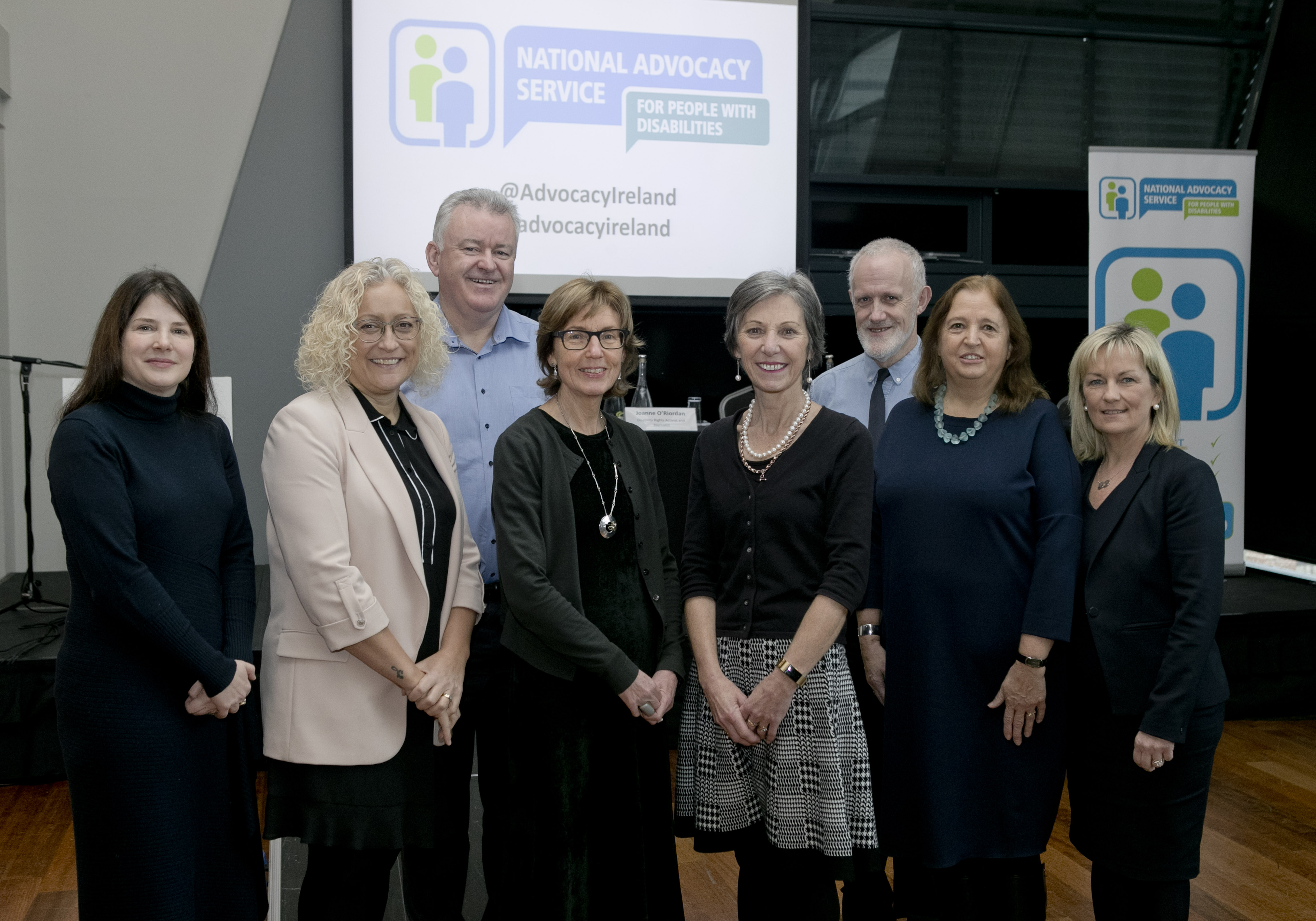 NAS Board of Directors assume their roles in a voluntary capacity. The Board of Directors meets on a bimonthly basis. In addition, there are three sub-committees of the Board which meet throughout the year. These are;
Finance, Audit and Risk Sub-Committee
Human Resources Sub-Committee
Policy and Communications Sub-Committee
Chairperson of NAS Board
Nuala Doherty
Nuala is the Director of the Centre for Effective Services. The Centre for Effective Services (CES) is a not for profit organisation, established in 2008 with offices in Dublin and Belfast. The purpose of the work of CES is to connect policy, practice and research, helping to ensure the implementation of effective services, to improve the lives of people living across the island of Ireland.
Nuala leads the team of over 45 staff and provides overall project direction in a number of areas, including prevention and early intervention; whole of government work; and projects with key statutory agencies in health, education and children. Nuala has an interest in evidence-informed practice and its application in the delivery of frontline services.
She previously held senior leadership roles in national state organisations in Health and Education.
A Clinical Psychologist by background, she worked as a clinician and a senior manager to bring change at an individual, organisation and systems level. She has held a number of Directorship positions on Boards and is currently the Chairperson of the Board of National Advocacy Service.
Board Directors
DONAL BUGGY
Donal Buggy BSc, MBA, is Head of Advocacy & Services with the Irish Cancer Society. The Irish Cancer Society is the national cancer charity in Ireland with the mission to improve the lives of those affected by cancer. This is achieved through funding life-saving, collaborative cancer research, providing up to date information about cancer, delivering a range of services to improve the lives of people living with cancer and their families, and by influencing change and raising awareness of cancer issues at the government level.
He leads the Cancer Prevention, Cancer Support and Advocacy departments providing up to date information about cancer, delivering a range of services to improve the lives of people living with cancer and their families, and influencing change for cancer issues at the government level.
He is a member of the Irish National Cancer Strategy 2017-2026 steering committee, policy groups on cancer survivorship, palliative care and psycho-oncology. He has successfully advocated for world leading policy initiatives such as plain packaging for cigarettes.
Prior to working experience includes Head of Operations for a non-for profit assisted human reproduction clinic and Chief Executive of Community Games.
LIZ CHALONER
Liz has worked in a variety of organisations and fields in the UK and Ireland throughout her career. Her work has included advice and advocacy; social work, family and group work; social work education and training; work with refugees and asylum seekers; anti-poverty and social inclusion initiatives; organisational consultancy and facilitation; and various management positions. Her profession of origin was social work, and having subsequently completed an M SC in social research, has conducted a number of service reviews, service mappings, and investigations. This has most recently included her role as 'specialist consultant' to the Áras Attracta Swinford Review Group, and member of the panel of investigators for the Ombudsman for Children. Liz is also an experienced board member, having served on several boards in the UK and Ireland.
BREGE Mc CARRICK
Brege Mc Carrick has over 30 years' experience of working in the disability and health sectors. She has third level qualifications in Environmental Health and Adult Guidance and Counselling. 
She worked as a Regional Manager with the National Rehabilitation Board, Regional Director with FAS, Director of Human Resources with the Midland Health Board and Disability Coordinator with the HSE prior to taking early retirement in 2010. 
She is currently Chairperson of the Irish Ladies Golfing Union, a Board member of the Confederation of Golf in Ireland and a Director of NAS.
DIARMAID Ó CORRBUÍ
Diarmaid Ó Corrbuí is CEO of Carmichael Centre, Ireland's oldest and biggest shared services facility for the non-for-profit sector. Its core services are focused on providing governance, training, organisational support, consultancy services and office space. Carmichael currently has 48 not-for-profit resident members in the Centre and it provides governance and consultancy supports to 100s of non-profit organisations around the country.
Diarmaid has extensive experience working with boards and providing governance support and advice. He is board member of the National Advocacy Service for People with Disabilities, a former Chairman of Acquired Brain Injury Ireland, Ruhama and also a former chairman of the Working Group that developed and oversees the Governance Code for Community, Voluntary and Charitable organisations.
Diarmaid has previously worked as a strategy consultant for over 25 years with Prospectus Strategy Consultants and Andersen Consulting working with a wide range of organisations in the public, healthcare and not-for-profit sectors on strategy, organisation structures and corporate governance. Clients included; Enterprise Ireland, Royal Sun Alliance, Bank of Ireland, AIB, Ulster Bank, Permanent TSB, IBM, UCD, Atlantic Philanthropies, One Foundation, Irish Wheelchair Association, Mount Carmel Hospital, the Departments of Health, Agriculture and the Taoiseach. His core specialties are strategy development and implementation, corporate governance, organisation structures, business planning and project management. He is also a former civil servant having worked in the Departments of Social Welfare and Finance.
ELAINE O'MAHONEY
Elaine O'Mahoney is currently the Head of Communications at the Central Statistics Office (CSO). She has over twenty years' experience in initiating, developing and implementing communication strategies across a diverse range of public and private sector organisations.
She has previously held senior positions in Tusla, the National Educational Welfare Board and Murray PR.
She holds a BA and MA from UCC and is currently undertaking an MSc in Management and Leadership in Smurfit Business College.
Elaine is a member of the Public Relations Institute of Ireland and is a certified project manager.
MICHELE TAIT
Michele Tait has a long history of working with advocacy groups and patient representatives and has provided advice and support to a range of service user groups.
She has worked in health services in Ireland for almost 30 years across many roles within hospital and corporate areas. She is currently the Lead for the HSE in the implementation of recommendations from the Scoping Inquiry into Cervical Check carried out by Dr. Gabriel Scally, in 2018. Prior to this role Michele was the National Hepatitis C Treatment Programme Manager within the HSE with responsibility for implementation of the Department of Health multi annual public health plan which aims to make hepatitis a rare disease in Ireland by 2030. She was also the national manager for services provided through the Health (Amendment) Act 1996 for persons infected with hepatitis C through contaminated blood (2004-2015) and was the chair of the Consultative Council on Hepatitis C (2009-2015) providing advice to the Minister on all matters relating to Hepatitis C. Michele holds a BSc in Biochemistry and Diploma in Health Service Management and is currently undertaking a MSc in Healthcare Leadership.
Noel Beecher
Noel is a Chartered Accountant and member of the Institute of Directors. He has held senior roles in the Public and Private sectors and within the accountancy profession. Noel currently works with the National Transport Authority as Chief Risk Officer, having previously held the role of Head of Transport Investment and the role of Manager of the Rural Transport Programme with them. He worked for a number of years with the Railway Procurement Agency in the development and management of major infrastructural projects. As Chief Executive Officer, Noel managed ECCU Assurance Company Limited, the life assurance company of the credit union movement in Ireland. He held the role of Director and Chief Financial Officer for Mercer in Ireland and its associated companies and spent a number of years with PricewaterhouseCoopers.
Noel has experience in the voluntary sector having held the roles of Chairperson and Director of the Retirement Planning Council of Ireland, Director of Clanmil Housing Association, Director and Chairperson of the Finance and Audit Committee of Cluid Housing Association. He has recently been appointed member of the Finance and Audit Committee of St Michael's House and has been appointed as a non-executive board member to the recently established Podiatrists Registration Board.
Helen McDaid
Advocacy has been an integral part of all roles Helen has held to date with specific collaboration with the NAS, and previous configuration, in the closure of residential services and the transitional placements of persons with a disability from acute hospitals to community settings.
Having worked in health services in Ireland for more than 25 years across disability and mental health services, Helen has held a number of different roles, all of which have carried frontline, operational and strategic responsibilities. Helen is currently senior manager with the Health Service Executive, (HSE) as National Disability Specialist, Disability Operations Community Services having recently completed a Masters in Leadership with the Royal College of Surgeons regarding, 'the recruitment of competency-based boards of directors in the non-profit sector'.
With a background as an Occupational Therapist, Helen worked in community services as part of a new Primary Care Team, within a Section 38 organisation within Mental Health services delivering personal development programmes and as Development Officer with Mental Health Ireland.
As Disability Manager for Community Services, this role delivered home care packages and compliance regarding service arrangements. Helen was also co-founder of Bodywhys – The Eating Disorder Association of Ireland where the role ranged from operational development to board membership. Further voluntary work has included children's welfare officer within the local GAA Club.